As a food technologist graduate, finding Aroma™: A Game of Essence in the market was a thrilling experience. Despite it does not bring a direct connection with food in its theme, the game offer what we need to perceive what we eat: the sensory. The game funding happened through Kickstarter in late 2020. This was my second time getting a game that got released by a company that does not belong to the mainstream and conventional publishing house categories. If Sarah's Vision was published solely by an insurance company, this time we got a game from Organic Aromas® that runs an essential oil business.
How well did this game entertain my group? What does it bring to the table? And why was I so excited with its existence? Was my thought that this game needs our olfactory sense true? This is not only an in-depth review, but also a story of Aroma™: A Game of Essence.
---
A short disclaimer before you read my board game analysis
As an avid euro gamer and hardcore Legend of the Five Rings (L5R) LCG player, my reviews may reflect a preference for these styles, and I may not cover solo games/variants extensively. Please note that my personal remarks are based on my gaming experiences, and I aim to provide honest insights within the scope of my preferences.
---
AS ALWAYS, FIRST IMPRESSION ON THE GAME OF ESSENCE
The outer layer of Aroma™ is unpretentious with its white colour dominating the box, and the simplified fragrance wheel that greets (potential) players upon arriving at the table. For sure, people know my weakness against pretty artwork, but this game was still attracting me to unbox and play it. Maybe the how-to-play itself is strong enough to sway me, or maybe even due to its modest packaging, too. I didn't really know, but my hand did tear off the wrap and opened the lid.
Moving on to the content, there are 20 vials containing different essential oil within, and they made sure that they wouldn't break during transport and shelving. The box was quite robust and small, I didn't expect that such a compact box would have managed to pack such things safely. More importantly, Organic Aromas® and Hacko Games successfully delivered the game unharmed. I cannot imagine what kind of calamity it would have wreaked upon our nose if the containments were not secure. Essential oil is a strong aromatic compound, so I'd also be careful to handle this game with the proper manner before, during, and after the game.
As per mentioned, the game contains essential oils, so my first assumption that we would use our olfactory system was a hit. This is the main reason why I like Aroma™, the interaction it offers between the game and one of our senses that I utilize a lot in my full-time job. Although the first impression went great, at this point, I was still curious how they managed to integrate such thing in an analogue game. Currently, the games we have in the market, sensory-wise, only stimulate players through visual perception. In comparison to the mainstream releases, Aroma™ is component-wise definitely unique. Is this pure gimmick? Actually, it's not. Read further to know why.
COMPONENTS & VISUAL
For this game, I wrote this section a bit longer than usual. At the end of the day, the main selling point of Aroma™ lies on its unusual component, the essential oil.
Besides a set of essential oils as its main element, the components in Aroma™: A Game of Essence were dominantly made of cardboards: the boards, player aids, and vial trays inside. Some of them were robust already, although, in my point of view it could have been thicker to ensure better longevity. I like how the small bottles slid in and out right away and perfectly into each hole in the tray. We could find some colourful tokens here, they acted as the markers during the game.
Moving on to a bigger component, the game board consists of four different huge tiles. The placement configuration depended on which game mode we played. We liked the simplicity of the icons printed to depict things here. They were pretty intuitive, through these icons it was easy to understand what the designer wanted. The aroma wheel was the oversimplified version of the real one, but that was actually on point. Aroma™: A Game of Essence was meant to be simple and easy-to-learn, so the decision to have this approach was legit. Furthermore, there was no unnecessary grandiose artwork to be found in the game. No intrusive illustration here, so you'll be okay.
The icons on the board and some tokens resemble each fragrances' category, an effort that deserves an applause to inject a small dose of aesthetic into the game. They made it as modest as possible without letting them getting too plain or abstract. I could still get the resemblance of a tree, flower, citrus fruit, and leaf from these icons and tokens.
The main star: essential oil
Okay, I know that this part has become too long. I wrapped all about the components with the last thing. Above all the aforementioned conventional components we usually find in other board games, Aroma™ also comes with the essential oils. They are the main characters in this game. Without these aromatic compounds, the game is useless. All vials look identical, something I expected because they need to accommodate the social deduction mechanic implemented by Odd Hackwelder in all those four modes. The only way to identify them is through the numbering labelled on the bottom of each bottle, or if you are confident with your olfactory, through your nose.
GAMEPLAY & MY EXPERIENCE IN A GAME OF ESSENCE
After reading the rulebook, we knew that we didn't only have one game inside the box. There were actually four different game modes for Game of essence: Discover, Survive, Revolve, and Collect. None becomes the primary game and none of them belong to the variant version. Each of them is a stand-alone game coming with a different set of rules and various winning conditions. I will not describe them and their how-to in detail here. Each mode has a mini-game to decide the first player, a preferred way to determine it rather than doing rock-paper-scissor. It has already stolen my heart from the presence of such trivial things!
With four different games in a box, it is understandable to have your own 'golden child'. For example, mine is the Discover, where we were allowed to bluff. The latter matter was the reason why I loved this particular mode. My next favourite was Collect because it was the fastest and the best way to learn about the aromas.
Furthermore, it is not my cup of tea, but I didn't really dislike Revolve. In fact, both Collect and Revolve were (in my opinion) the best way to educate players how the fragrances distinguish themselves, but it was lacking player interaction, so I preferred the first two I mentioned above. Lastly, the Survive thing was also fun, but it involved player elimination, so my group and I were not really into it.
The core mechanics of the Game of Essence
The bottom line here: Aroma™: A Game of Essence is essentially a social deduction, but instead of guessing roles, we speculated the fragrances. This game did not only demand our skill in assumption, but also the olfactory to distinguish what is what. We have never experienced a game that poked our noses as intensive as this game. This could be the first game in the world to utilize this aspect. Although the mechanics from all four modes weren't something completely new, how they delivered them to the players through the sense of smell was what mattered for me. Well done!
Offering different way to educate & the Game of Essence's main hurdle
Getting deeper to my point, I could say the game didn't only bring fun to the table. It offered the players in my group the chance to learn and educate themselves about how some fragrances smell. Some of them had never known how pine really smells, for example. Through the experience from the game, they have learnt it. Who said games don't teach you anything?
I have taken sensory trainings back then, and for sure this can be a tool for tutoring future's potential trained sensory panellists. Furthermore, I strongly recommend training centres and campuses that work closely to the sensory field to add this game into their curriculums. It can be a fun way to learn! I heard many lecturers are developing an 'Education through gamification' approach extensively nowadays.
Some people in our group gave up midway, not because the game was mechanically hard. Instead, they found it hard practically to always sniff and identify the fragrance. Taking that into consideration, Aroma™ belongs to the niche in the board game market. It needs a set of specific and suitable players to enjoy. Nevertheless, we can categorize this game into a definite party game branch.
Replay value and possible expansion?
This facet became the shortcoming in Aroma™: A Game of Essence. Eventually, the players will be familiar with all the scents, and the game becomes dull. In the near future, they need to provide more essential oils to get a whiff of. While it's true in some senses, when you get familiar with all of the smell, it means your nose is trained already to detect the smell of some fragrances. To stretch it more, that means the game has successfully taught you, mission accomplished!
Our contact person from Organic Aromas®, Matthew, confirmed that they "definitely need to make a 'premium' or 'advanced' version of the game" in the future. Instead of only talking about the possibility to release an expansion, they are targetting even higher: a brand-new game with more complex mechanic implemented. I can't wait for it.
VERDICT
Organic Aromas® and co. have brought something magical into the board game world. Abusing players' sense to olfactory perception, Odd Hackwelder were like the first man who has discovered fire with his Aroma™: A Game of Essence. The game may be a bit plain for some players, but I didn't really mind it. It offered a fresh way to learn about one of the sensory properties human needs to know to enjoy life. And what's more, we can learn it while having fun, too.
Aroma™: A Game of Essence is a party game for sure. I recommend this game for players with high curiosity and also educators who work closely with the sensory training.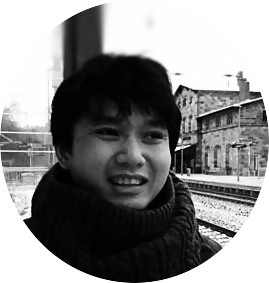 I am a full-time food technologist during weekdays. However, when the calendar hits weekends, I transform into an avid board gamer. I am a hardcore Legend of the Five Rings (L5R) LCG player from Fantasy Flight Games (FFG). Current hobby: buying board games. My shelf of shame's list is getting longer, thanks to you, Kickstarter.