We have been observing itten since their Here Comes the Dog hits the market. This Japanese publisher is popular for its dexterity game with a unique mechanic and refreshing gameplay. They also released some notable two-player game that requires a grasp of strategy and tactics. We have also reviewed them previously. And now, we are interested in their next project: the Funbrick Series.
Funbrick series is an original collection of several games from itten. The main characteristic of the series is the slim box to pack the game. What's more, itten promises a high replay value from each game in this series.
Remarks on Viking See-Saw
Viking See-Saw is released in 2021. Interesting to note that the designer behind this game is Reiner Knizia, I don't have to explain who he is, right? The game will be widely available after the Kickstarter project, I hope. You can already follow their project page here.
In this game, all players try to load all their cargoes to the ship. The cargoes consist of various items with varied weight, and on their turn, players need to place one of them to the raising side. If nothing happens, that's a good sign, the game continues. When the ship tilts over, they must take one crate from the middle section.
Sounds easy, right? Well, it's actually not. When the ship tilts, there's a chance that some loaded cargoes fall over, too. The player who's responsible for that accident needs to take all falling items to their player area. Whoever loads all their items the fastest wins the game.
I played Viking See-Saw with Tomioka-san from itten on Spiel Messe 2022. The space on the ship was limited, yet it felt too spacious for two players. Hence, more player count may be a good idea to create a more fun (and chaotic) round. Playing with four players could be thrilling, since the ship would be easily crowded. Therefore, players need to be creative with how they stack the cargo.
Viking See-Saw comes with modest components made of various material. As the core concept of Funbrick series, its packing will be slim and compact. It's good news for gamers with limited spaces at home, and also for the players who travel much. It's portable, and need less space to play, too. We just need to be careful not to lose the small components when the ship tips off.
The design overall is pretty clean. There is no learning curve, as the game is not complex, something common in a dexterity game. You can play the game intuitively, straightforward, after unboxing it. Replay value depends on your gaming group.
I noticed that placing the heavier goods first was a good idea. As the game goes on, we will have so many cargoes on-board. Loading the heavy item at the late-game is proven difficult. Meanwhile, stacking the light ones later has a better chance to keep the ship upright. Viking See-Saw is a dexterity game, something that I lack of (and hence, I never win in Jenga).
Final thoughts
As mentioned, Viking See-Saw was already published but limitedly distributed. It is exclusively available in Japanese market. With their Kickstarter project, the game will receive more exposure worldwide. Not only Viking See-Saw, but also the whole Funbrick series.
I should have tried the other games from this series. They also looked fun, especially the latest addition, the Ninja Master. Viking See-Saw is a must-have from the entire series, though. It's easy, not only in terms of understanding the rule — the gameplay is also straightforward. Viking See-Saw, and the other games from this series, will be a good addition to your light and compact game collection. I really cannot wait for their Kickstarter to go live!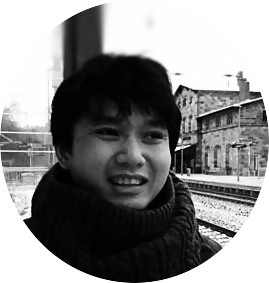 I am a full-time food technologist during weekdays. However, when the calendar hits weekends, I transform into an avid board gamer. I am a hardcore Legend of the Five Rings (L5R) LCG player from Fantasy Flight Games (FFG). Current hobby: buying board games. My shelf of shame's list is getting longer, thanks to you, Kickstarter.